Support Group Co-Facilitators Needed At Hospice SLO County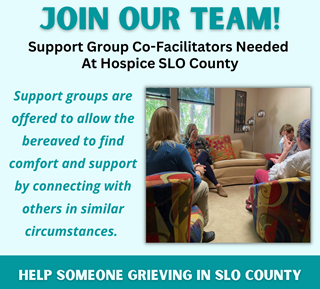 Hospice SLO County, a nonprofit organization serving San Luis Obispo County since 1977, is currently seeking volunteer Support Group Co-Facilitators.
Support groups are offered to allow the bereaved to find comfort and support by connecting with others in similar circumstances. Support Groups provide emotional support and education about the grief process and finding comfort through connecting with like-minded individuals. Support Group meetings are offered according to the needs of the community, and often change to meet those needs. The current schedule of support groups is online and regularly updated: https://hospiceslo.org/support-groups.
Hospice SLO County has continued to provide support groups during the pandemic through Zoom, and we are beginning to offer some groups in person as well. We are looking for more volunteer co-facilitators to help us offer groups in both formats as we work to restore some of the groups we've discontinued.
Qualifications: Completion of Group Facilitator Volunteer Training, interview with counseling director. Attendance at monthly support group facilitator's meeting is expected.
Hospice SLO County's Support Group Facilitator training is offered twice a year.
Training topics covered will include:
Why do people come to group?
What different types of groups are there?
How is a group structured?
What skills are required to facilitate a group?
Preregistration is required. Training is free to attend.
Learn more at www.hospiceslo.org or contact (805) 544-2266.