Care Management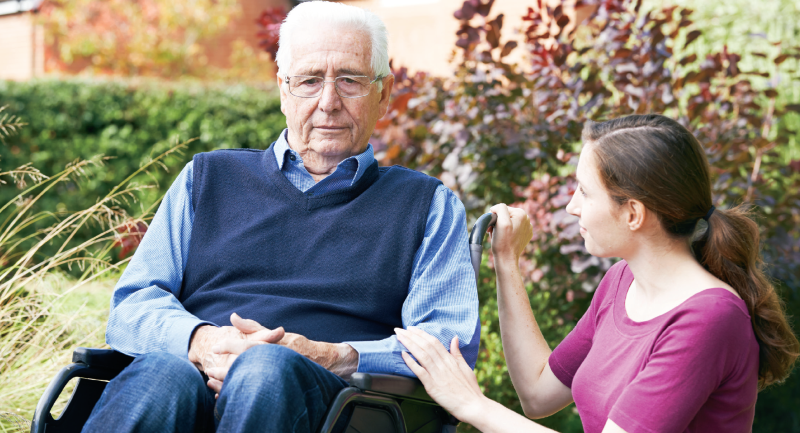 Hospice SLO County helps caregivers caring for loved-ones with life limiting illness to find and access extra resources and support needed. Being a family caregiver is stressful and our Care Manager strives to help ease the burden of finding appropriate resources to assist the home caregiver with respite, care needs, planning or access to services.
Hospice of SLO County offers unique volunteer-based services at no cost/no insurance and can work in partnership with agencies that take insurance. We are open to discussing any situation and if we cannot provide the services needed, we can often refer you to another agency that can.
We collaborate with a variety of health related organizations to serve vulnerable adults and their caregivers in our County. These organizations include Meals that Connect, Coast Caregiver Resource Center, Lifesteps Senior Homemaker program and Wisdom Center, CAPSLO, Adult Day Care, Social Services, Public Health, Veterans organizations, Ombudsman, Alzheimer's Association, Wilshire Health and Community Services, Dignity Health, Central Coast Home Health and Hospice, and other agencies that help in our community.
Our care management services have been graciously underwritten through grants that ensure we can help people plan for the care of their loved ones and access area resources more easily and efficiently. 
Examples of services we provide:
Assistance navigating health care options in the community
Help connecting to area resources (examples include financial, insurance, legal matters, funerals)
Assistance with understanding Advanced Healthcare Directives and POLST
Patient advocacy with health practitioners (with prior authorization)
Information for home care providers including home health, palliative care, medical hospice, home caregivers, and other community caregivers
Dementia care referrals, resources, and care plans
Care Management for complicated diagnoses and care needs
Personalized care plan and monthly (or more frequent) follow up
Caregiver education resources
All services are provided free of charge. Donations are gratefully accepted.
For more information on how you can help with our Care Management, or if you or someone you know needs Care Management services, please contact:
Care Manager
805-544-2266