ADVANCE HEALTH CARE DIRECTIVE SUPPORT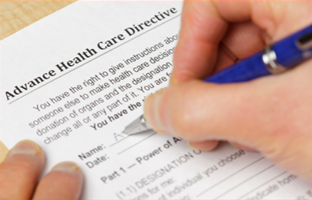 As the COVID-19 pandemic has revealed, too many people have not made their healthcare wishes known, creating extraordinarily difficult situations for providers, patients, and their families. At Hospice SLO County, we encourage all adults, regardless of age, to fill out an Advance Health Care Directive.
We collaborate with www.prepareforyourcare.org to provide the necessary documents and video instructions so that anyone can complete their own Advance Health Care Directive. The Prepare program has the required forms and asks important questions that help the individual decide who should make their medical decisions if they are too sick to make them. It also explores what medical care and quality of life are important to the individual and if the decision maker should have leeway to work with doctors and possibly change prior medical decisions if something else is better for the individual at that time.
It is heartbreaking to see families struggle with impossible decisions when their loved one is incapacitated. An Advance Health Care Directive is not only for the owner, but also for those who will have to make healthcare decisions when the owner cannot. For some, this is an emotional subject and the forms may be hard to complete. To this end, we are available to provide compassionate assistance to anyone in San Luis Obispo County who would like to have their health care wishes documented.
Appointments for assistance are available, Monday through Friday, from 10 AM to 4 PM at Hospice SLO County located at 1304 Pacific Street in San Luis Obispo. Zoom or phone conversations are also available.
Please call our office at 805-544-2266 to schedule an appointment.
Advance Health Care Directive forms and instructions are located at:
PREPARE FOR YOUR CARE