Pet Peace of Mind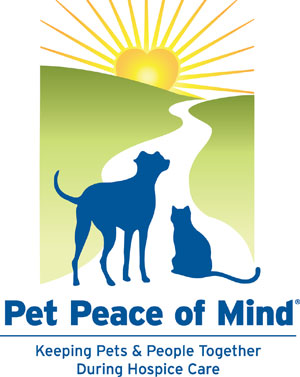 Hospice SLO County believes that pets are part of the family. Pet Peace of Mind helps seriously ill people with some of the care for their pets. Sometimes a much beloved pet is the most important source of companionship for seriously ill people.
As their illness progresses, most pet-owning clients need help with pet care to ensure the bond can continue. Simple tasks like feeding, walking, grooming, and trips to the veterinarian are difficult, if not impossible.
Almost all seriously ill pet owners are concerned about what will happen to their pets if they can't care for them either due to illness or death. Our volunteers can help address the anxiety related to this concern through regular support.
Pet Peace of Mind can provide assistance for the animal and if necessary help create a plan to provide a safe and loving foster home or permanent home for their pet when they can no longer be with them.
To learn more about the National Pet Peace of Mind Program please click here.
All services are provided free of charge. Donations are gratefully accepted.
For more information on how you can help with our Pet Peace of Mind, or if you or someone you know needs Pet Peace of Mind services, please contact:
Volunteer Coordinator
(805) 544-2266