Pet Peace of Mind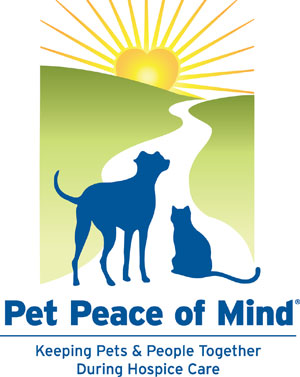 As pet lovers, we have all had the experience of our pet understanding when something was wrong, or sensing when we were not feeling well. They comfort us, they ease our tension, they reduce our fear and they love us unconditionally. We can only try to imagine how much more significant this unique bond is for patients facing a life-limiting or life-threatening illness. For many patients in hospice care, their physical condition leads to a decrease of previously enjoyed social opportunities and relationships. Their pets help to fill that void by offering unconditional love and acceptance, comfort and companionship when it is needed most; such as when friends and family aren't seen as frequently, or when words are too hard to say. Pets are there for us, and Hospice SLO County's Pet Peace of Mind program ensures that we are there for them, in return.
Being there for one's pet can be difficult, because unfortunately many people receiving hospice care are also physically or financially unable to care for their pets. Simple tasks like feeding, walking, grooming, and trips to the veterinarian are difficult, if not impossible. Our Pet Peace of Mind program allows clients to complete their end-of-life journey with the comfort and companionship of their pet, without worrying about their pet's current or future needs. Many of these animals have never been in a kennel or without the constant love of a human companion. Pet Peace of Mind assures the continued support for the animal and a safe and loving foster home and permanent home for their beloved companion when they can no longer be with them.
If you love animals, there are a variety of volunteer opportunities available. Please consider Pet Peace of Mind in-home client support, financial support or opening your home and providing foster care.
To learn more about the National Pet Peace of Mind Program please click here.
All services are provided free of charge. Donations are gratefully accepted.
For more information on how you can help with our Pet Peace of Mind, or if you or someone you know needs Pet Peace of Mind services, please contact:
Director of Volunteer Services
(805) 544-2266