End-Of-Life Doula Support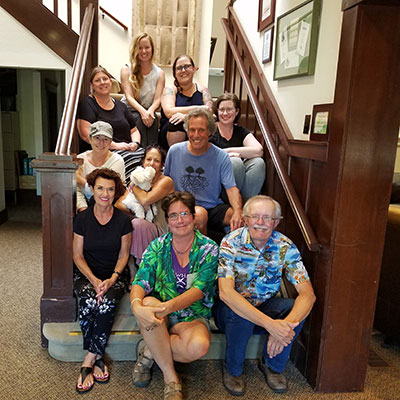 Just as a birth doula brings greater comfort and deeper meaning to the process of labor, Hospice SLO County's end-of-life doulas offer the same level of support to the dying. End-of-life doulas provide non-medical, holistic support and comfort to the dying person and their family, which may include education and guidance; emotional and spiritual support; and practical care.
By offering dedicated non-judgmental support and holistic approaches to end of life health care, our doulas bring a nurturing presence, calming influence and compassionate support for the dying, their caregivers, family and friends.
End-of-life doulas do not replace the services of a medical hospice or home health palliative care; they enhance it by providing an additional layer of support and more hours of coverage for the family. Doulas help provide continuity of care and fill in gaps in services by other providers and agencies. End-of-life doulas do not administer medication or provide skilled nursing care or services.
Examples of services we may provide:
Assist in creating meaningful legacies and/or rituals to honor the uniqueness of the dying person
Facilitate informed decision-making discussions based on identified values and preferences
End-of-life planning including assistance with understanding Advanced Healthcare Directives and POLST
Assist the individual and their loved ones in planning for how they would like the last days to unfold
Provide education as desired regarding what to expect during the dying process
Referrals to appropriate community resources and care providers
Non-medical comfort assisting measures and physical support for the dying
Utilize relaxation techniques to assist in pain and anxiety alleviation
Respite for caregiver(s)
Based on volunteer availability we attempt to provide round the clock presence during last 48-72 hours of life
After death care
Practical assistance with documentation and notifications, memorials, celebrations of life, remembrance ceremonies
Support loved ones in the early days of grief
Hospice SLO County end-of-life doulas are trained through the International End of Life Doula Association (INELDA).
All services are provided free of charge. Donations are gratefully accepted.
For more information on how you can help with our End-Of-Life Doula Support, or if you or someone you know needs End-Of-Life Doula Support services, please contact:
Volunteer Coordinator
805-544-2266