Generosity Lit Up The World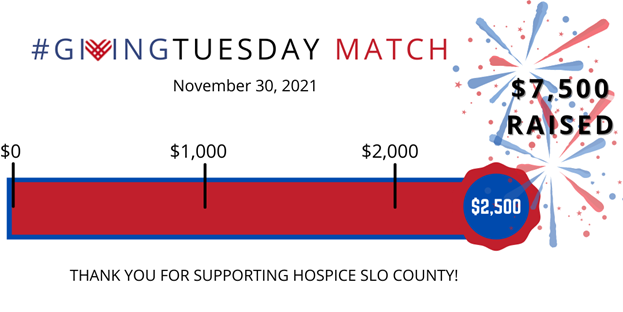 What started in 2012 as a simple idea–a day that encouraged people to do good–has grown into a worldwide phenomenon inspiring millions of people to give back and reach out in kindness each year.
GivingTuesday reports that people contributed $2.7 billion to U.S. nonprofits and community organizations in 24 hours on #GivingTuesday 2021- a 9% increase from 2020.
Here at Hospice SLO County, we were so fortunate to have a past board member anonymously donate $2,500 in matching funds. And our supporters stepped up in a big way! Not only did we reach our match, but our donors doubled the $2,500 needed. That's right, $5,000 was donated for GIVINGTUESDAY. Add that to the $2,500 matching funds and we ended up with an astounding total of $7,500 raised. 
Thank you to all who participated on this annual day of generosity!