Volunteer Grief Counselors Needed at Hospice SLO County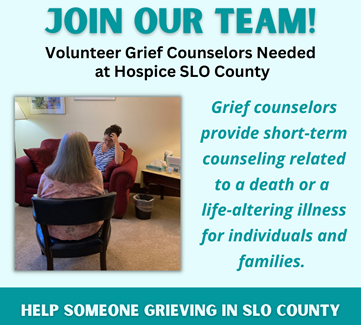 Hospice SLO County, a nonprofit organization serving San Luis Obispo County since 1977, is currently seeking Licensed Marriage and Family Therapists, Clinical Social workers, Professional Clinical Counselors and Psychologists to volunteer to provide grief counseling to persons who are bereaved or anticipating a loss.
Grief counselors provide short-term counseling related to a death or a life-altering illness for individuals and families. Grief counselors complete client documentation and make referrals as appropriate.
Hospice SLO County offers supportive counseling to anyone in our community who is grieving a death or coping with a life-limiting illness. Grief counseling is offered at any time, after any death. Counseling is also available to support individuals with a life-limiting illness and their loved ones, offered at any time after diagnosis. Sessions typically provide clients with both emotional support, information, and an opportunity to explore how they can more effectively negotiate these challenges.
Qualifications: Licensed in California as an LMFT, LCSW, LPCC or Psychologist.
Other individuals with counseling experience will be considered on a case-by-case basis.
Learn more at www.hospiceslo.org or contact Anthony Huffaker, LMFT at (805) 544-2266.