Hospice of San Luis Obispo County Light Up a Life 2020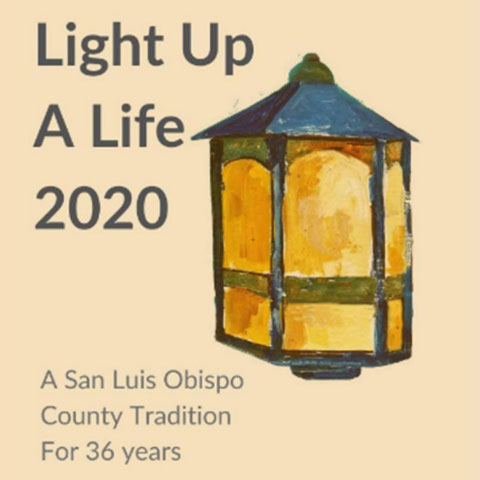 December 7, 2020 – Light Up A Life Ceremony
December 11, 2020 – Pet Ceremony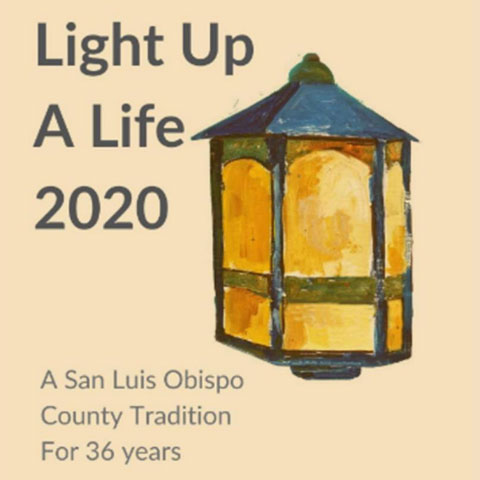 Hospice SLO County invites you to the 36th annual Light Up A Life fundraiser to celebrate and honor your loved ones. The holidays symbolize a time when friends and family gather in celebration. It can also be a difficult and emotional time for those grieving a loss. Light Up A Life offers the community an opportunity to remember loved ones who are no longer present, but certainly not forgotten.
The COVID-19 pandemic has precluded people from saying goodbye to their loved ones and many have not been able to hold or attend funerals services. Hospice SLO County is honored to give the community a precious opportunity to memorialize the lives of someone loved and lost. Usually we gather in groups at different locations throughout the county, but the coronavirus has a different plan for us this year.
This year we will live-stream the remembrance ceremonies from our downtown SLO historic house straight into your home.
Light Up A Life Ceremony
Monday, Dec. 7, 2020 6-7 PM
"Paws to Remember" Pet Ceremony
Friday, Dec. 11, 2020 6-7 PM
The Light Up A Life ceremony will include music, inspiration, poetry, candle lighting and the reading of all names entered. As always, we will hold a special "Paws to Remember" ceremony in memory of lost pets on Friday, December 11, 2020.
Live Stream Link and Instructions will be coming soon. Please check this page for updates as we get closer to our events.
The lantern symbolizes light as we are guided through life's journey.
For a $20 donation we will illuminate the memory of your loved one or honor someone living by reading their name at a ceremony and entering their name into the Remembrance Book.
For each name submitted, you can choose to receive a commemorative lantern ornament to keep or send to the family of the person you are remembering or honoring.
Together we will ensure that lights will shine this Light Up A Life season!
CLICK HERE TO DONATE AND ENTER NAMES TO BE READ
To Sustain Our Vital Mission, We Need Your Sponsorship This Year More Than Ever!
Your sponsorship dollars will support the LIGHT UP A LIFE fundraising event that gives the opportunity to grieve which is critically important to our community and our collective mental and emotional health. Many have not been able to hold or attend funerals or memorial services. Your sponsorship will give hundreds of people a precious opportunity to honor the lives of someone they have loved and lost. Your sponsorship creates meaningful healing.
Every donation received has a direct impact on our services. We are a non-medical hospice and DO NOT charge fees or file claims. Our only income comes from direct donations, sponsorships, grants and bequests. Your generosity and support of LIGHT UP A LIFE 2020 will help fill the financial gaps realized from the catastrophic impact COVID-19 has had on our ability to fundraise. It is tragically ironic that our fundraising efforts are challenged like never before at the exact moment when our services are so vital to our community's collective health.
This has been a year like no other. Hospice SLO County, a small but mighty local non-profit, has helped thousands of people over the past 43 years. With your support Hospice SLO County will thrive for another 43 years. These are defining days, and it will be our honor to let the community know that you are our ally. Thank you!