Hospice of San Luis Obispo County Light Up a Life 2020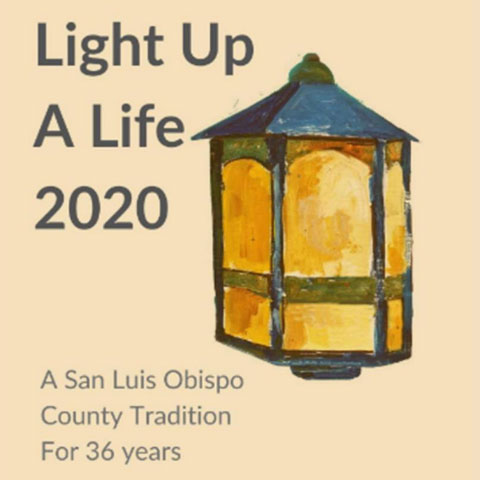 Hospice SLO County invites you to join our yearly tradition of honoring loved ones at our Light up a Life remembrance ceremonies.
For 36 years, Hospice SLO County's "LIGHT UP A LIFE" season has offered special ceremonies at locations throughout San Luis Obispo County for remembrance of loved ones who are no longer present, but certainly not forgotten.
The lantern symbolizes light as we are guided through life's journey. The flame represents the love that continues to warm memories of those no longer living.
Please join us for music, inspiration, poetry, candle lighting ceremony, reading of names and a reflective break in the holiday season at any of the five Hospice SLO County Light up a Life ceremonies December 7-11, 2020.
Anyone and all ages are welcome.


2020 Light Up a Life Remembrance Ceremony Schedule
San Luis Obispo
Monday, December 7, 5pm.
Mission San Luis Obispo de Tolosa & Plaza
751 Palm St, San Luis Obispo
South County
Tuesday, December 8, 6pm
Heritage Square Park & Gazebo
300 W. Branch St, Arroyo Grande
Coastal Communities
Wednesday, December 9, 5pm.
Cass House
222 N Ocean Ave, Cayucos
North County
Thursday, December 10, 5pm
Castoro Cellars
1315 N Bethel Rd, Templeton
San Luis Obispo
"Paws To Remember"
Pet Peace of Mind Ceremony
Friday, December 11, 6pm
Hospice SLO County Office
1304 Pacific Street, San Luis Obispo
HAVE YOUR LOVED ONE'S NAME READ AT A CEREMONY
For a $20 donation or more, your loved one's name will be read at one of the 5 Remembrance Ceremonies. You can choose to have a name read "in memory" or "in honor" and that preference will be noted during the ceremony.
Click here to donate and enter names to be read


To sustain our vital mission, we need your Sponsorship this year more than ever!
Your sponsorship dollars will support the LIGHT UP A LIFE events in 5 different areas of our county from December 7 – 12, 2020. These socially distanced opportunities to grieve are critically important to our community and our collective mental and emotional health. Many have not been able to hold or attend funerals or memorial services. Your sponsorship will give hundreds of people a precious opportunity to honor the lives ofsomeone they have loved and lost. Your sponsorship creates meaningful healing.
Every donation received has a direct impact on our services. We are a non-medical hospice and DO NOT charge fees or file claims. Our only income comes from direct donations, sponsorships, grants and bequests. Your generosity and support of LIGHT UP A LIFE 2020 will help fill the financial gaps realized from the catastrophic impact COVID-19 has had on our ability to fundraise. It is tragically ironic that our fundraising efforts are challenged like never before at the exact moment when our services are so vital to our community's collective health.
This has been a year like no other. Hospice SLO County, a small but mighty local non-profit, has helped thousands of people over the past 43 years. With your support Hospice SLO County will thrive for another 43 years. These are defining days, and it will be our honor to let the community know that you are our ally. Thank you!